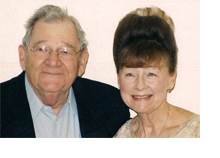 About Us

In 1988, Ray Smith, a missionary with Shantymen International, designed and built, with the help of wonderful volunteers, "Shanty House" Native Bible Camp. Each week a different group of 20 First Nations children from 12 area reservations would have a place to enjoy arts, crafts, sports and Gospel teaching.
By the year 2000, Ray and his wife Anna, had become very concerned and burdened that a vast number of First Nations children and youth were not hearing the "good news". Their passion to be vessels from which rivers of living waters would flow to touch the lives of these children, had become an ongoing prayer, seeking every avenue they could think of to reach more children with God's love.
In 2001, by the grace of God, and working with the Charities Directorate of Canada, the Native Children's Foundation of Canada Inc. was founded and the Lord has indeed done great things! Literally, thousands of First Nations children across this nation of Canada from east to west have experienced the joy of a Bible Camp and the saving message of our Lord Jesus Christ.
Young adult First Nations have had the privilege of a three year Bible Course and to go out into the field of their own people which is white to harvest.
Innumerable DVDs and CDs teaching the Word and teaching to "Just Say No" to drugs and alcohol are distributed to reserves and the Bible Camps.
The Native Children's Foundation of Canada Inc. is now a busy, ongoing and year round ministry requiring ongoing and year round support.
On April 25th, 2009, Ray entered the presence of the Lord. Anna has stepped down from the work but continues to serve on the N.C.F.C. Board in an advisory capacity. Kimberlee Butcher has taken up the secretary work for the Foundation.

Our Lord continues to bless His Foundation through His supporters, each one an integral part of this, His ministry, and continually opening doors to the unreached areas of this nation of Canada.